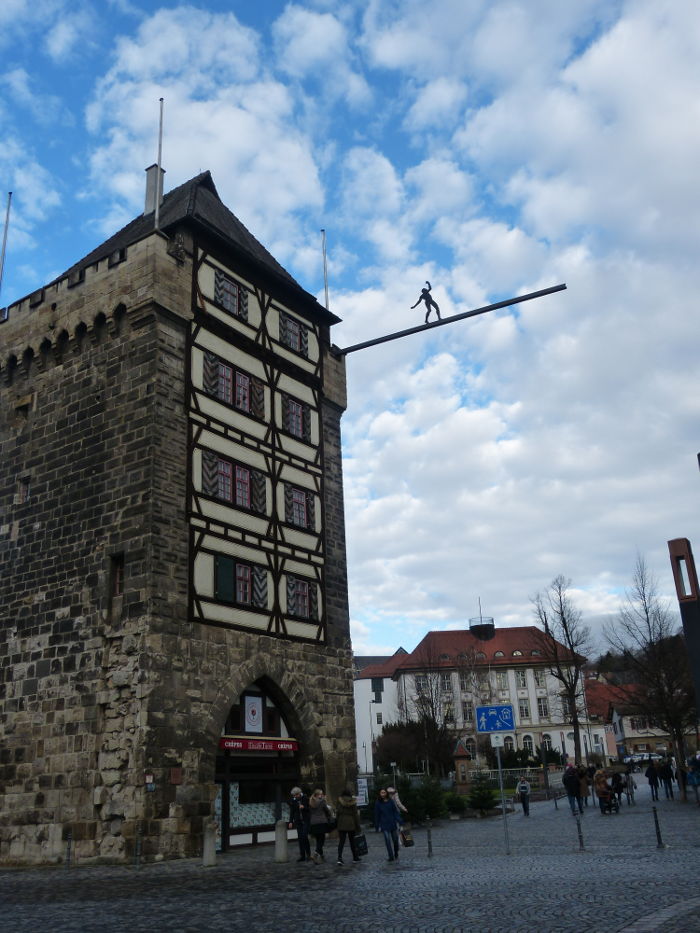 Before setting out traveling with a family I hadn't read about how hard it could be.
I'd read the round-up posts of other's tour highlights, the statistics posts, the occassional whacky account of things that had happened along the way; but not about the character-testing, stress-creating, tear-inducing reality that I experienced in the first three months.
So here dear readers is some of my raw reality.
MONEY
We technically ran out of money.
We'd brought at least a month's worth of budgeted expenses with us in cash, but we hadn't reckoned for our accommodation to be under-equipped and requiring us to buy kitchen utensils and for opening a bank account to take so long.  We ended up having family at home transfer our rent for several weeks so that I could stretch the cash I had for food, and we reimbursed it through transfering money from our NZ account into their NZ account.
So okay we found a way around it, but it was so frustrating especially when I know that you can walk into a bank at home and walk out with a bank account the same day.
It was also somewhat embarrasing to have to ask family to 'take care of business' as it looked as if we were ill-prepared.  Ill-prepared for the intense bureaucracy and lack of common sense therein perhaps.
HOMESICKNESS
The children all had homesickness, especially at around 3 and a half weeks of arriving in Germany.  They all wanted to go home.  So did I - not just this one time though, it was almost a constant tug-of-war for me.  That's the conundrum.  I was exactly where I wanted to be - back in Germany, but I needed life to be a little easier at least.  Back home I knew where to find groceries in the supermarket, I knew how to get where I was going and had a car to do so, I knew how to find out what I needed to know in my native tongue. At home I wasn't the only one that knew these things either - every member of the family did too.  At home each person could share the burden of running a family.  In Germany they couldn't or not without my support.
My recommendation is that you are in this for longer than 3 months.  It takes you that long to get past the first couple of bouts of homesickness and steel your reserves for what is to come.
HOME
The roof in our house (in New Zealand) began to leak again 2 months after we left even though we'd had a roofer come in and repair it prior to our departure. 
Trying to work out what to do about a maintenance issue we thought had been taken care of caused division and contention.
We contacted the roofer about taking on a total re-roof instead and it took weeks to hear back from them.  In the end a family member drove the 450km each way to look at the problem and add to the fix that was done; which I only hope will hold.
SHOPPING
I hated only shopping for one day, then two days and finally only 5 days groceries at a time.  Having a tiny fridge, no pantry, freezer or extra supplies and having to physically carry anything we bought.  Some days this felt like 20kg on my back under which I almost passed out one afternoon in the dastard cold.  
The supermarkets are not the same, and the lay-out in a German supermarket proposes no logic that I could find.  It takes hours to weave back and forth to find what you need for the simplest of meals.  Some of the most basic things at home were hidden in an international section (if it had one) or very expensive here.  What they call sweet potato, from Spain, (supposedly like a kumara) attracted 19% tax instead of the 7% of the other core food items, and yet other Spanish products were the lesser - why?  
You learn very quickly to eat like the locals as it's too expensive or not even possible to make many familiar meals.  Although that's one of my strong suggestions to help children through the transition, try to make a few of your family favourites especially in the first weeks regardless of the cost.  I had a file on my phone of recipes from home that I carried with me so I had all the ingredients listed.  We didn't have an oven in our first place so that ruled out a lot of meals too - another frustration.
FRUSTRATION
Lots of things were frustrating.  Not having good internet.  Not being able to register as resident due to a law change.  Being thwarted opening a bank account due to not being able to register and not having good internet. Being told different stories from different people in the same bank about opening an account. Only have a 2-element stove top that didn't really work properly. Not having a working kitchen.  Not having a readily accessible washing machine.  Not being able to register a vehicle due to not being allowed to register as resident.  Not being fluent in the language.
LANGUAGE
Despite it being 25 years since I last spoke German I do understand a lot more than I realised I would.  However it is still not enough to permanently stash away the dictionary, or carry on a conversation using technical terms.
Walking out of the regional government buildings after seeking advice about registering a vehicle I was in tears; held together only because I had the two boys with me.  It was so excruciatingly hard to ask the questions I needed to ask, and understand the answers.  Many times in the day-to-day usage of the language I can find a way around saying something, if not the perfect way, and I am understood; but other times people are not so patient or understanding.
It is also hard to be the only person in the family that can readily communicate with the 'outside world'.  That's a lot of responsibility that I'd like to be able to delegate.
HOMELESSNESS
While we had planned to be in one place for 3 months, we couldn't find something that stretched our budget that long-term.  Germans rent for years not months and when landlords found out we only wanted to rent 3 months the doors closed.  In order to have any hope of setting our overseas adventure in motion we found ourselves in holiday accommodation that ate up our funds more quickly than we hoped so we needed to find somewhere else for the remainder of our time in Germany.
We thought we'd found a bigger, more functional alternative home to rent; so gave notice and cleaned the place we were in from top to toe on the day we were to pick up the key for the other.  Then we were told we couldn't have it any more.  No reason, no apology, nothing.  We were physically homeless with 5 dependents.  
We were invited to come back later in the day to discuss another place, but at double the price, not being able to use it as a registered address and less freedom and privacy, it felt like a 'bait and switch', and we walked away from that too.
That was the night that we spent (with permission) in an abandoned building sleeping on cardboard boxes on the floor, with a few sleeping bags and blankets lent to us by some kind souls we had met only 2 weeks earlier.
That was the night I cried and cried.  I was gutted.  How could I do this to my children?  What were our options?  Had I really dragged them half way around the world for this?
FAMILY OF 7
We try not to make an issue in our family that we might be dis-advantaged by our size, but we are.
If it were just Atlas and I, the above challenges wouldn't have been so difficult.  We would have found a way around or through them.  We would be more flexible and resilient.  So who cares if we had to sleep on someone's couch for a few nights!?
Having children traveling with you is another totally different level of responsibility.  Parents will know how hard the days in a family's regular environment are, with regular routines, and so many variable personalities and potential for conflict.
Take that and throw it into a sea of change and instability and it seems to be a recipe for insanity.
A family of 5 would still have it easier than ours.
RELIANCE ON OTHERS
No matter how much care I thought we'd taken to tie up our loose ends at home, we have still had to rely on family.
We had organised for my folks to receive, scan and forward our mail, and look after our vehicle in Auckland where we flew out of; but now had to rely on them to organise our money transfers, and fix our roof.
Without them we would be stuck.  It doesn't seem right to not give them a choice.
Without the generosity of the kind souls providing us with sleeping gear we might have been more uncomfortable and cold the night in the old building. 
Then there are the very kind folks we have never met who have let us stay in their hut in the woods when we had no where to go after that.
Another couple drove us and our stuff in their cars, then left us with a small car for a couple of weeks!
And yet another couple who let us use their town house when we had to move out of the hut for others one weekend; and chaperoned me driving their car to the hospital when Atlas needed treatment.
It is hard to be on the receiving end of such generosity, but we have so needed it.
It has been these acts of humanity that have kept our hearts tender against the scars of the challenges.
WHAT NOW?
There have been many times I have just wanted to book tickets and come home.  The stress of trying to organise everything with the odds against me has been excruciatingly hard and lonely, and it's not over yet.
There is always something that needs planning.  Always something that needs doing.
It always feels as if the odds are against us no matter how hard I try or how focussed I am.  This is the part of the journey that I do not like.
How do other families really make it work and enjoy it day-to-day?  Is it a case, that we are somewhat dis-advantaged having to work within a budget too?   Will we look back on this adventure and remember only the good parts, and what will they be?   Will even the bad times be good?