Class 2 and a Tonka toy
28 July 2015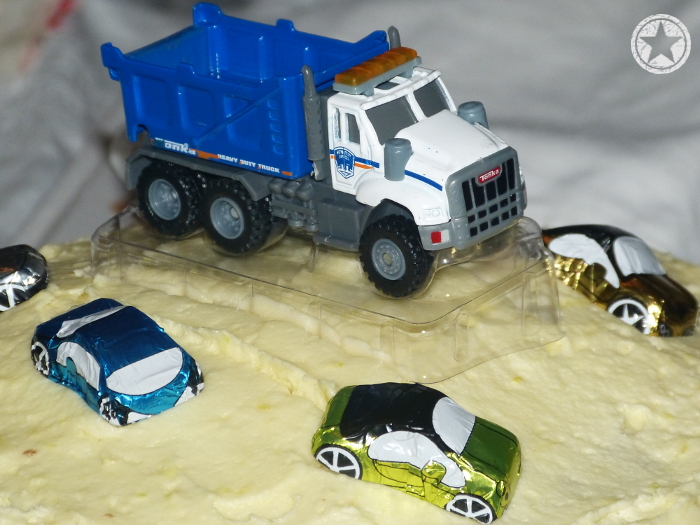 This past week we've been in Auckland, in part so that both Atlas and I could study and undergo our class 2 driver license assessments.  We reasoned that if we are to stay on in Europe and travel around a little, after our initial 3 months in Germany, it makes sense to do so in a motorhome as it gives us transport and accommodation in one and greater flexibility.  As with here in NZ, the motorhomes that are large enough for us in Germany require more than a class one (light vehicle) license.  
Here's a summary (pdf download) of who may drive what in Germany if you are normally resident outside the European Union.
It was a bit of a splurge seeing as perhaps we could get away with only one of us able to drive a heavy vehicle, but we were heeding the sage advice of families who have gone before us who said it's best both adults qualify in case one or other is not well, tired or otherwise.  The drive up was a case and point - Atlas was only able to drive a couple of hours before he had back pain so I took over for the other 5.
Our instructor was more interested in making sure we had reached a high level of competency practically than the other companies we canvassed.  Unfortunately there was no discount for having already passed the 2L but that was more than made up for in the time he spent on the practical driving skills which were included in the course fee; and the one component that I really wanted to know I had fully mastered.
I wasn't looking forward to driving in Auckland at all, in fact I have only driven a car there once and had to navigate the southern motorway where a rice truck had met its fate, stalling traffic and increasing the natural disposition locals have for road rage.  Still I went in with an open mind and it turned out to be the least of my concerns.
Nothing could have prepared me for an old-model stick-shift Hino truck.  NOTHING!
After my first 1-hour lesson the stress was so much I shed a tear while swapping the drivers seat for the passenger's - so Atlas could take his turn in the hot seat.
There was no way in heaven or hell that I could see myself passing the final assessment.  I felt like a dunce.
I HATED IT!
How could people sitting other courses having done absolutely no practical truck driving and go straight to sitting their practical assessment?  That totally floors me.
Dad tried to remind me that getting your 2F is really an 'invitation to learn', just like when you get your full class 1 vehicle license you don't know all that you need to at that point either.  He even took me for a ride in his Iveco but it was so different it just didn't compare or instill me with a confidence boost for the next day.
For the second session at least the cab was familiar but boy was I pushed.  Instead of just crawling around narrow suburban streets full of parked cars I was hurled onto one of Auckland's busy streets - Dominion Road, and then onto the Southern motorway.  Thankfully we had missed the morning rush-hour traffic.  After that we drove all around the back of Mangere and Papatoetoe through road works, reversing, rain, industrial zones, more roundabouts, traffic lights and rural zones, taking the truck up to 6th gear and down again repeatedly and rapidly.  I liked the motorway and reversing best.
In some ways our instructor was a hard task master barking orders, raising his voice, and freely meeting out chastisement but on the other hand I began to appreciate that if I listened and did what he said I would be okay and rise to the challenge.   
Who would have thought that in one day I would progress from snail's pace in suburbia to moving on the motorway?  That's something I though was going to take me weeks. 
Getting my class 2 license was like a tug of war.  On the one hand I wanted the freedom that being able to drive a HT vehicle gave our family (and I didn't want to be the one that held us back from our dreams) but on the other I didn't really want to push myself that far outside of my comfort zone.  Having passed, I am under no illusion that I can get in any cab and drive but at least now I am more willing to the opportunity.  I could if I needed to.  I do want to practise more so that I gain confidence and skills in handling a variety of different vehicles, and am not quite sure how that might happen before we leave as there is still so much to be done otherwise and we don't know anyone specifically who has a class 2 vehicle.
Actually driving overseas will be another matter again though.  I am thinking we need to plan quite a few short trips in the first couple of weeks, off the beaten track so Atlas and I get used to: any vehicle we may beg, borrow or buy; and driving on the right hand side of the road too.
For those looking at preparing for their Class 2 license here are a few tips that I hope will help you:
drive as many other vehicles than your own in the weeks leading up to the training: both automatic and manual
drive a vehicle or two that sit higher on the road so you get used to the different panorama
really look at your own vehicle and it's condition - familiarise yourself with all the areas that require maintenance and take care of them: tyres, water, oil, windscreen wipers, etc.  
read the NZTA guides to Fatigue / Logbooks and general Heavy Transport driving.  These are a good overview to the basics which are covered in the Unit Standards albeit more pedantically. 
if you have the opportunity to ride-along with a friend or colleague take it or if passing a parked truck peek in the window at the layout of the cab.  Both will help you feel more comfortable sitting in the driver's seat.
it might even be a good discipline to start a log book with date, odometer start and finish readings, & reason for trip; and then add a start and finish location too to get you in the frame of mind of recording everything for your logbook component.
get at least your medical check before you start your course.  Trying to have this done at a GP that might be able to take you on day 1 of your course will most likely mean paying a lot extra.
although ultimately have your learner's license prior.  There is just so much detailed information that you need to process over the 2 - 4 days of your course that it's best not to have to cram for the theory test too.