Crossing the Cook Strait
20 May 2014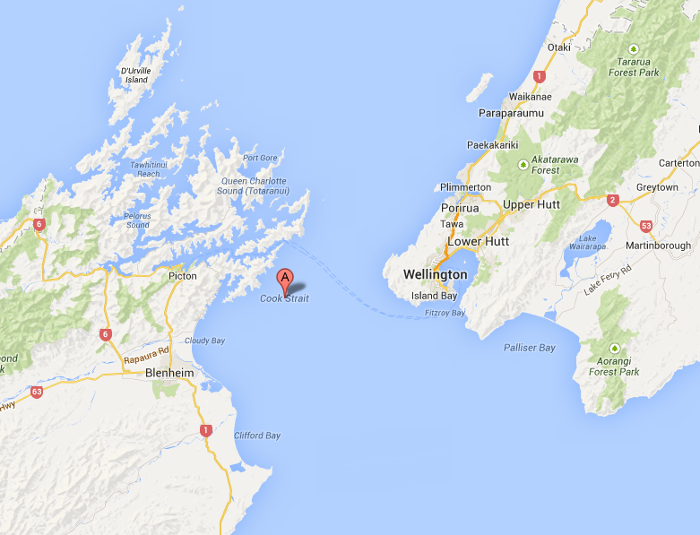 [Image courtesy of Google]
No New Zealand tour is complete without crossing the Cook Strait between Wellington in the North Island and Picton in the South Island, which will take between 3 and 3 1/2 hours. (Incidentally you are heading east - west!).
On a fine day this is really beautiful especially navigating through the inlet in Queen Charlotte Sound.  You might even see a dolphin, seal or other wildlife.
Check out the latest weather forecast for the Strait from Metservice.
You pay for passengers and your vehicle(s).  So if you are travelling with 2 adults and 2 children in a motorhome towing an a-frame or caravan, then you pay for the 2 adults, 2 children, motorhome and toad.
There are two ferry companies:
Offer discounts to members of Kiwi Holiday Parks, Tourism Industry Association of New Zealand, NZMCA, Farmlands and Family Parks.
Free wifi.
Infant change stations.
Playgrounds.
Free PG movies and children's activity pack.
Offer discounts to members of Kennel Clubs, NZMCA, Top 10 Holiday Parks, BBH, Show your Card and Save, Students (with ID) and newsletter recipients.
$4 for 40Mb wifi access.
Cots and changing facilities.
Playgrounds.
Video games and television lounges.
Note that if you have rented a vehicle they may not allow it to cross the Strait.  Instead you will need to drop off on one side and pick up on the other - this needs to be pre-arranged with your provider.
Also check with your (private/commerical/rental) vehicle insurer whether loss or damage during carriage on the ferry is covered.
| | |
| --- | --- |
| | |