Driver's theory tests
27 January 2015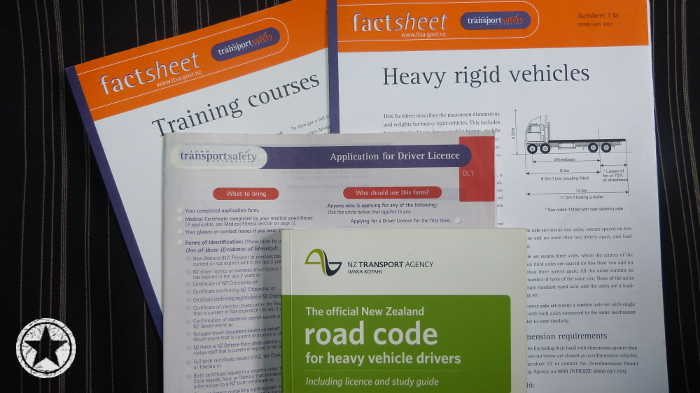 There are various ways of studying for the theory component.  
You can buy the (up-to-date) road code for heavy vehicles from a bookstore, or NZTA agent and read it from cover to cover.  It has all the test questions in the back of the book too which you can use to check how well you are comprehending what you are reading.  The slight problem with this method is that whilst reading through chapter by chapter you won't know which questions are for which class and may end up cramming more than you need.
If you have registered for an advanced driving course some will send you out a theory study workbook as part of your fee, if they require you to obtain your theory license prior to participation in their 2 or 3-day intensive workshops.  Others include teaching the theory component and sitting the test with them as day one of their course.
The quizzes contain questions about:
basic driving knowledge
driving behaviour
parking
emergencies
road positions
intersections
signs
legalities and theory
additional specifics for both motorcycles and trucks
You can choose to take a quiz in any of these areas separately too.
If you get a question right your answer will be enforced by an affirmation and brief precis summarising the background to the question and answer.  If you get a question wrong you still get the summary and the question is marked for you to revisit at the end of a quiz.
Sitting there doing a random test after test online initially seems like a perfect solution, but they are not iterative (ie they don't leave out the questions that you answer correctly and focus on re-introducing the ones that you don't) and would take many random tests before you covered all the possible theory questions.  That is the only down-fall that I see to the site.
So another way of focussing in on areas you need to learn/revise is doing the separate quizzes in each of the sub-sections above.   This seems to be a better way of making sure you cover all of the possible questions and it helps that they are logically grouped together in the way that your mind would access the information again later.  
If you were parking a vehicle you'd think about all the parking questions; if you were at an intersection then you'd need to recall all those specific questions.
| | |
| --- | --- |
| | |