First followers
13 March 2014
A while back I watched an inspirational video about how 'movements' start.  Initially someone has an idea, and then there is the first person who stands up to support them; after that there is a gathering of others and the rest is history.
Today I want to thank our first followers.  Individuals who have liked us on Facebook, followed us on Twitter, subscribed to our RSS, or have taken an interest in our story face-to-face.   To have you genuinely interested in where we are at is encouraging.  We really don't know where this road will take us, but we won't know unless we try.
Here are some of your Facebook and Twitter profile images (Facebook won't show us everyone just yet!):
Abby             Adam @ Campermate             Diane
Anne @ Pretraveller            Tracee                     Mike & Sara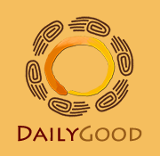 DailyGood are following our story too (along with 1000's of others).  We hope you find something that inspires you here!
RSS folk there is no way to identify you individually but a huge thank you also, for deeming what we have to say precious enough to be delivered directly to your inbox! 
| | |
| --- | --- |
| | How about taking some time to express gratitude to someone who encourages you‽ |