Going out basket
07 January 2014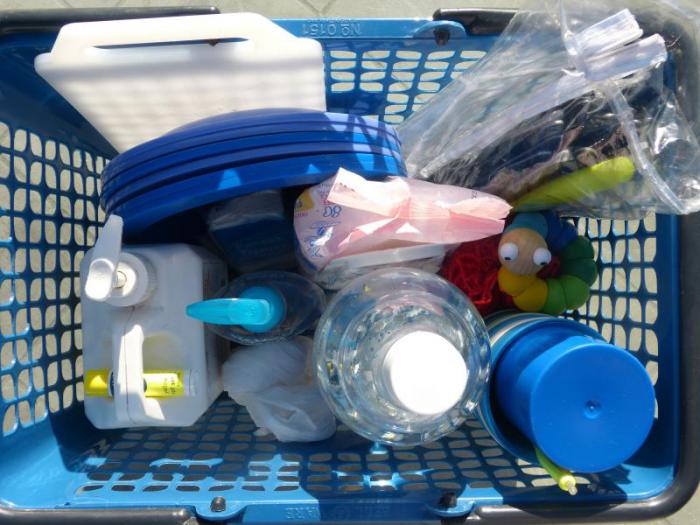 One of the most useful suggestions we could make to families, whether they are going out for a few hours in the car, or taking a day trip, is to assemble their own 'going out basket'.  As simple as a basket of basic eating and drinking products that makes meal-times easier and cheaper; but which could also include nappy or swim bags, picnic mats etc
Having one saves you money on expensive prepared meals & drinks and gives you greater flexibility.
Ours is a basket like that which you carry through a supermarket, with open mesh bottom and sides, and two handles that come together to hold.  
The items we like to have in ours are:
hand sanitiser
baby wipes
handbag packet of tissues
sun tan lotion
8 bowl-plates (affectionally called blates in our household as they could be used as either)
8 cups (although each person does have a stainless steel water bottle that they are responsible for filling and bringing with them)
8 teaspoons
8 forks
8 knives
8 dessert spoons
knife with cover
heavy duty plastic bag for clean cutlery and knife (a long pencil case would do if you have one lying around)
plastic bag or two (for used dishes and cutlery; or food that needs to be re-wrapped)
small chopping board (the plastic type with drip groove around the outside)
string bag
large bottle of water
snacks (if we plan to be out for morning or afternoon tea times)
This means that we can stop by a grocers, or supermarket and pick up just what we need to make a meal, knowing that we can prepare it back at the van or in a playground or wherever we are.  
We also have a cold-hot box in the van, which is useful for keeping water and left-overs cold; several picnic mats; and a first aid kit too.
Sometimes when we don't want to take the entire nappy bag we add:
nappy tote with cloth nappy, cloth wipe, bottom balm, and wipe solution
book or activity for the baby
sippy cup
At other times, when toilet training, we have also included:
a waterproof tote with a roll of toilet paper, plastic bag and change of underwear
Our basket wasn't always so well kitted out.  Instead of all the cutlery we simply had the serrated knife and 2 teaspoons.  Even having the cups and water will save you money and stress.  At one stage we always had a box of muesli bars in the basket as snacks.  Now it's whatever the children put in.  Children always tend to be thirsty and hungry right when you are in the middle of something or not quite wanting to have to go home yet.  We all know how, all too often, tasks take longer than we expect as well!
Just in case this also helps, we have a swim bag on stand-by in the house, with:
swimwear for each person
beach towels
sun tan lotion
goggles, hats & accessories
It's so easy to pick it up and throw it in the van, so long as everything has been returned to it after washing the previous time.
Let us know in the comments if you have a going out box, basket or bag, and what your essential items are.
This idea could be extended to having an activity box for the children (books, playing cards, toys, mp3 players), a mummy box for when you are the taxi driver and waiting for children at activities (crosswords, books , nail polish, notebook for ideas and lists), a letter-writing and card kit (pen, cards or paper, envelopes, stamps etc), language box (audio files, flash cards, grammar book, foreign reader or magazine, exercise book), car cleaning kit (hearth brush, cleaning/polishing cream, rag, glass cleaner and cloth)....you name it!
Happy travels! 
| | |
| --- | --- |
| | What repetitive household tasks can you simplify through standardising? |