Got gas?
03 June 2014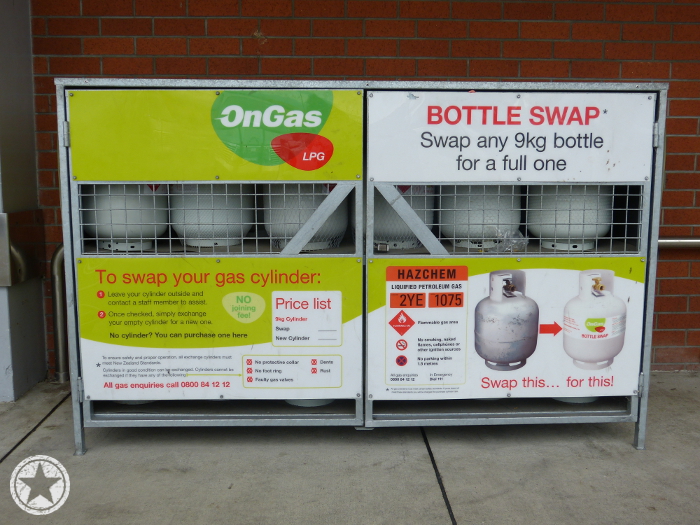 Gas bottles are commonly 9l in mobile homes and outdoor barbeques (bbqs) in New Zealand, often having 2 so that one may be used while the other is (waiting to be) filled.
Many supermarkets, petrol stations, hardware stores and The Warehouse offer a service whereby you take your empty container in, swap it for a full one and pay the difference.  Currently the price for this is around $35.90.
Other service stations will fill yours while you wait, which we found cheaper and slightly fuller (saving you a few trips along the way). Ours cost $33 today.
Gas bottles are tested/certified to be fit for 10 years until their expiry date.  After that a filling service will not fill them unless you pay for testing (although when ours expired last year a swapping service still accepted it in exchange for a full one). 
Gas bottles are also left-threaded which means they screw on the opposite way to a screw (lefty loosey, righty tighty), so twist left to tighten.
Here is a safety video courtesy of the Queensland Department of Natural Resources and Mining that details the detergent and water test for when you reconnect your bottle.
They also have one about general carriage and maintenance which is useful.
And if, like Atlas you are wondering how gas works in your 3-way fridge, here is a great article that explains it.
| | |
| --- | --- |
| | |