Nouns, oh common nouns - part two
15 February 2014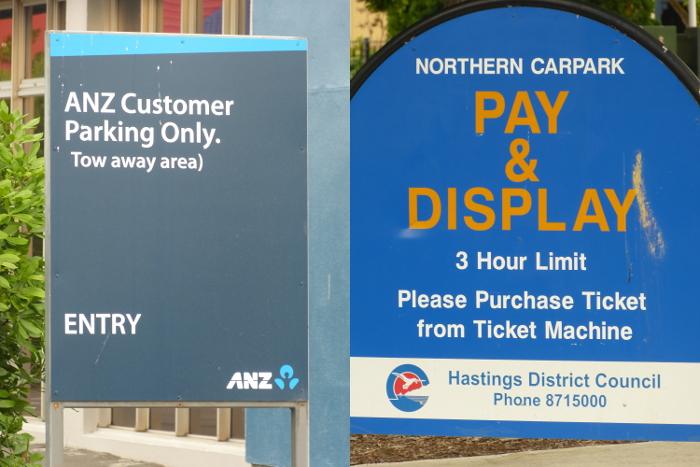 If you read part one you will know that these signs are capitalising common nouns.  
So on the left it ought to be "ANZ customer parking only" and under that "(Tow away area)".  The ANZ sign only has a closing bracket and not an opening one.  It is however one of the rare examples of the use of a full-stop on a sign.  In this instance it seems unnecessary.
The HDC sign on the right needs changing to "3 hour limit" and "Please purchase ticket from ticket machine".  'A' or 'your' is conspicuous by it's absence between purchase and ticket but it is implied therefore omitted.  It is not particularly likely that you would be purchasing a ticket for someone else; nor would you need more than one.
The next duo is from the side of the Danske Møbler building.  They have gone for that all lower-case look on the sale sign; and a capitalised noun on the excellence and open signs.  How would you re-write them?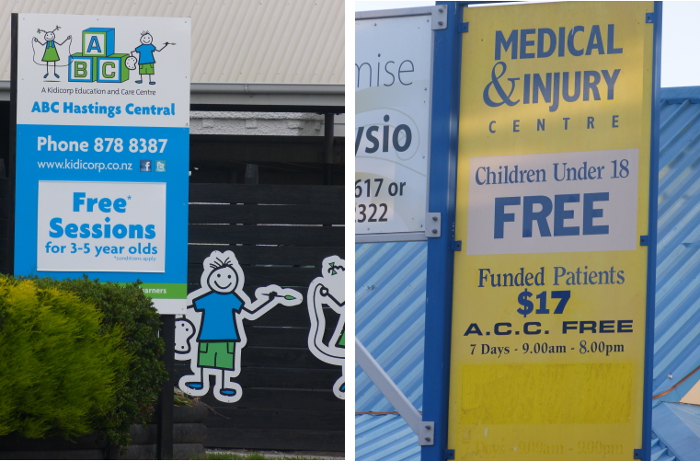 ABC is part of the Kidicorp group of centres, and looking at the sign suggests that the full name is really Kidicorp Education and Care Centre.  This idea does seem to carry over to their website, but the Companies office record tells another story.  The owner has recently (2012) amalgamated and changed the name of the main company and could have formalised this change to include 'Education and Care Centre' but didn't.  It is still just Kidicorp Ltd.  Therefore I am inclined to think that only Kidicorp is to be capitalised as it is a proper noun.  'Sessions' also needs to be lower case.  The changes to this sign are somewhat more important than a lot of others, as their key industry is education.  Having a sign that doesn't follow the English syntax does bring the ability of the centre to teach English (or anything) into question.
While the Medical & Injury Centre have taken liberty with their typography, I would still conclude that 'under' , 'patients' and 'days' are lower case.