Power
01 April 2014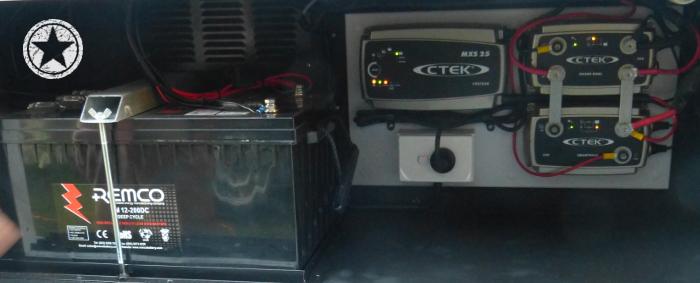 This is part ten of 'How to choose a mobile home'.
Power is so taken for granted these days, we wonder how we would do without it. 
While our homes are wired with 240v and sockets that deliver instant electricity to whatever appliance we plug in, the power in our mobile homes can be any combination of 12v, 24v, 240v, solar, wood, gas or diesel.  It's quite a mind-bender contemplating how you might do away with complete reliance on 240v whilst on the road, but it does force you to examine the necessities and look for a variety of  solutions for your needs.
BASIC INFORMATION ABOUT EACH POWER SOURCE AND USE
For 240v you need to be able to plug into an outdoor socket, like in a camping ground. All your household appliances can be plugged in and life goes on in relative luxury.  Caravans tend to run off 240v, 12v & gas as a guideline.
Gas is filled into (most commonly) 9kg bottles and you may have 2 of these on board.  It is predominantly used to fuel the oven, heating and water heating.
12V and 24V (rarer) are drawn off batteries, often separate from any batteries for the tow vehicle.  This can provide you with lighting, support certain low voltage appliance and tide you over between destinations or 240v stops.
Solar is a newer introduction to the mobile home market, and requires batteries for storage as well.  It is generally used as per the 12v and 24v applications above but may be used to power small 240v appliance with the use of an inverter.
Diesel generators are another option although many reports are that they are loud and you need to start and stop them for peak draw times.  They convert diesel into a 240v power source which acts like an outdoor socket in a camping ground directly feeding into your mobile home.
Wood is a quaint feature of many house trucks where it is used to fuel a stove for warmth, water and cooking.
When looking at what a mobile home has to offer, you will need to consider how you are going to use it, your
destination
, how
long
you will be away, and your
routines
.
12V &/or 24V
Does it have house batteries?  

What type are they?

How long do they take to re-charge?  

What type of charger is it?  

How many amp hours power do they store?  

What is the maximum wattage for drawing power off before you need to plug into 240v or use a generator?    

Are the batteries only charged when the motor vehicle is running or from solar or a generator?

Does the battery system have a monitor?
How many 12v/24v sockets are there inside the vehicle?
 
SOLAR
Is there solar? 

What size regulator does it have?  Can it be extended?  Can it shut itself off?

What size is the invertor?

What is the average solar capture for where and when you are going to be travelling?

Is it enough for your needs?


 
GAS
If gas, then one bottle or two?

Is there a co2 and a gas detector inside the vehicle?
MAINS - 240V
240v or not at all? (110v for our US readers)
What power outlets are there?  Are they in useful places?
What power outputs might you need for certain appliances? Where?
GENERATOR
Diesel g

enerator?

What size?  Is it enough for your appliances?

Is it easily accessible and able to be lifted?
For those reading from overseas, our NZ electricity socket is a type I: a 3 pin - two upper prongs angled in at the top toward the centre, and one lower centred upright prong.
What appliances run on more than one fuel source?  Often a fridge will be described as 2-way or 3-way meaning it runs on 240v and 12v or 240v, 12v and gas.  This is certainly useful if you want continuous refrigeration instead of just at your destination as you can switch to 12v while travelling, and use gas if you can't plug in to 240v when you get there.
240v (mains or generator) would certainly make the transition from fixed abode to mobile home a whole lot easier, as we have some appliances that we want to take with us.
I am not a fan of gas but it seems like a necessary evil.
LED lighting running off 12v would be great - I like cool white lights not warm yellows. Solar would be cool - who can argue with 'free' energy? So a good battery bank is a must but the weight would need to be accounted for. On our travels we have seen a lithium ion battery set-up that did away with a couple's need for gas too.
I think our best bet is to have as many options as possible and to help with inevitable contigencies. We don't anticipate that we will have many, if any, opportunities to plug in and re-charge.
| | |
| --- | --- |
| | |