RAOK round-up #2
11 February 2014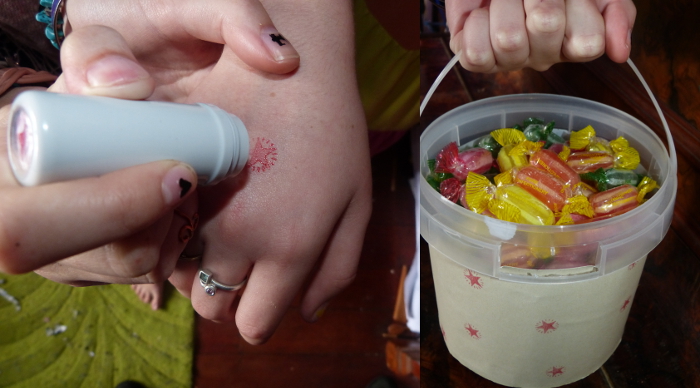 RAOK round-up documents the random acts of kindness or volunteerism that we have been able to do for others over the last month. Our focus is to do something for someone each week. Listing them here celebrates this goal, and we hope may help to make you more mindful of what you have to give too.
Started contributing to Campermate by adding and correcting information on their mobile application for amenities in our area.
Offered to stamp a shining star on anyone's hand that wanted it - a reminder that they are a star! (This is now an on-going RAOK as the children like to do it).
Involved a couple of young girls who were on their own to join us stamping hands. [This was a bit of a lesson for Gemma who was the one to give up her stamper - that the form of a random act of kindness can change from your original idea; and that sometimes it is what you give up not what you do that is the kindness.  The sweet thing 'got it' and seemed happy to catch up with Vega and the 2 others and just be part of the group.]
Gave out wrapped sweets at the Night Market.
Provided free phone advice.  Atlas spoke several times over a couple of days with a friend of ours who was 300km away from home, in order to help her mother-in-law (who she enthusiastically gets along with!) set up a new broadband connection at home.
Brought in a sandwich boardwalk sign for a business that had blown over in the gale (Castor hauled it in, and was buffeted several times in the process - the board making him a larger target for the strong winds).
Opened a door for an elderly woman (Castor did this, which is great to see from a young boy).
Posted 50 cards of encouragement into the letterboxes of council retirement village residents.
Stopped to allow other cars into the line of traffic before us; and pedestrians to cross at intersections/round-abouts. (I do this as often as I can but have tried harder this month to do it with the right attitude!)  
Put 4 shopping trundlers away that were left by others in a car park.
Waved & smiled at drivers. (The children have a particular place they like to do this, and get a lot of enjoyment themselves out of the honks they are given in return). 
Helped a few strangers and immediate family with their family genealogy research.
Helped someone find out boundary information about their property.
Volunteered at the Welcome Wednesday Cafe (Vega & Electra).
Doing things for perfect strangers is weird. You know nothing about them.  You may never see them again.  You have no context.   You have to trust that the act will be a kindness.
As someone who likes to plan and who is used to finely balancing the scales of of reason, this is hard. Over the past month I have found myself relaxing the logical part of me, to more fully embrace something else.  I am not sure what you would call it.  It's that sense that things will work out; that it's more about enjoying the giving and trusting the result in spite of yourself; it's the realisation that there must be something bigger than myself that makes sense of my humanness. It's weird and yet it is liberating at the same time.  No agendas.  No loss.
| | |
| --- | --- |
| | Have you ever contemplated that although people may not look disabled on the outside there are disabilities that hold many of us back on the inside? |