RAOK round-up #3
06 March 2014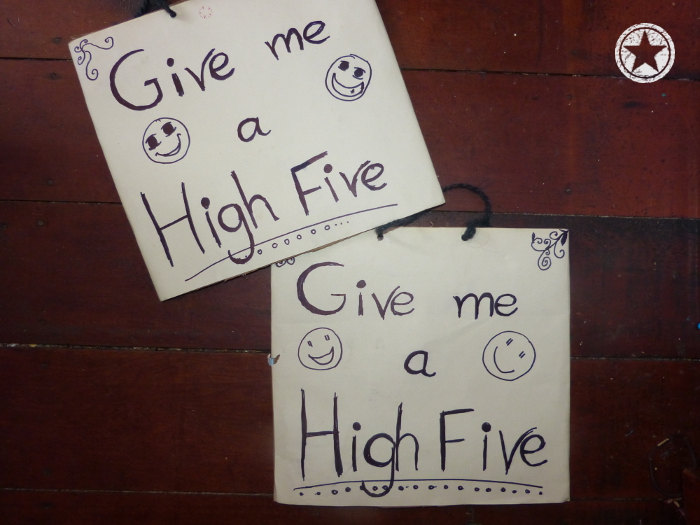 RAOK round-up documents the random acts of kindness or volunteerism that we have been able to do for others over the last month. Our focus is to do something for someone each week. Listing them here celebrates this goal, and we hope may help to make you more mindful of what you have to give too.
This month we have a story from inside our four walls that touched my heart. Atlas had a birthday coming up and Castor came to me to ask how much a chocolate bar was, so we talked about the different sizes and prices.  He thought that with his $1.20 he could buy a small slab for his dad.  After a bit more discussion it was proposed that if all 5 children put a little bit of money in, they could buy a larger family-sized bar.  The children don't get pocket money so anything they have was either given to them as their own birthday or Christmas gift, or found change they were told they could keep in a store.  I haven't allowed them to buy gifts themselves before, as I reason that what little they have ought to benefit them directly.  Pollux didn't have a cent himself, as he had banked his change, so Gemma put in for his share too.  Then off we all went to make their RAOK a reality. The ensuing conversation on the way home from the supermarket highlighted that Atlas wouldn't even know that anyone but I had purchased the chocolate, but that they would each know what they had given (of themselves) to make the present a reality.  How I hope this is getting into their souls rather than just a surface-level understanding.
These are some of the other things that we have done:
Played with a toddler traveling with his parents, from San Francisco, at the playground.  Our children, especially Gemma love to befriend little people, but this made me so proud.  The dad commented mid-way that our children were kind; and when we said our good-byes, he thanked us for playing with their son and said they hadn't seen him so happy in ages.  That's all that parents want isn't it - for their children to be healthy and happy.  
Shut 4 fridge doors in the supermarket milk department that had been left open by other shoppers.
Helped to fix a basketball hoop for a business providing it as a community service.
Celebrated Valentines day giving away 200+ Hershey's kisses with cards that said "You are awesome!"  - so much fun!
Helped turn around a kayak for a less-functioning child who had become stuck (This young girl had called out loudly for help.  Castor walked in front of a dozen people & the lifeguard (all who just stood there and did nothing) to aid her.)
Doubled-up on a park ride, to make sure that a late-comer would be able to have a go in the last group; as the ride had already technically closed.
Posted more sticky notes on publicly-accessible bathroom mirrors.
High-fived 300+ people and offered them a sweet.
Gave out star stamps, high fives; and took a stall-holders child under our wing at the Night Market.
Vega is still volunteering 5 hours per week at the Welcome Wednesday cafe and I (Electra) have done a couple of sessions helping the baristas and working the floor too.
Got to sponsor our fifth Kiva loan recipient - Silver from Uganda who is supporting his wife and TEN CHILDREN by fattening calves.

What we have found in our 3 months of family RAOKs, is it's not about the size or expense of the kindness, but more the willingness to be kind that has the greatest impact (for both parties!).
Click here to see our first, December - January, post and our second month, January - February, round-ups.
A smile, a stamp, a candy cane or a (Hershey's) kiss is all that it takes; and sometimes that's not the real kindness either.  It may lead to a conversation; or be accompanied by an encouragement, or an opportunity to do something more.
With all the enthusiasm the children have for going out there and doing something, especially each week at the Night Market, it is a mission to keep up with fresh ideas.  I hope that our round-ups will save you that same burden if you take on a similar challenge with your family or friends!
| | |
| --- | --- |
| | If you do a RAOK for one person each week, and they in turn do the same, that would impact over 1 billion people in a year. |