Road User Charges
06 October 2013
In New Zealand, vehicles over 3500kg; or those under that don't run on petrol, are charged seperately for using the roads, with a couple of exceptions.  [Petrol users have this built into their per litre fill.]
Road User Charges (RUC), also called a Distance License, are paid per 1000km, must be purchased in advance and displayed on your windscreen.  There are a number of places where they can be purchased, each having their own administration fee to factor into the overall amount you pay.  Obviously the more kms you purchase together, the more any adminstration fee is amortised over the total cost.
The clincher is that you need to purchase your RUC on the gross laden weight of the vehicle - the amount it potentially is allowed to carry if it were full.  New Zealand has weigh stations on the sides of the road in various locations and these are used to spontaneously stop motorists to check their loads.
Most of the recreational vehicles on our roads fit into the following 3 classes: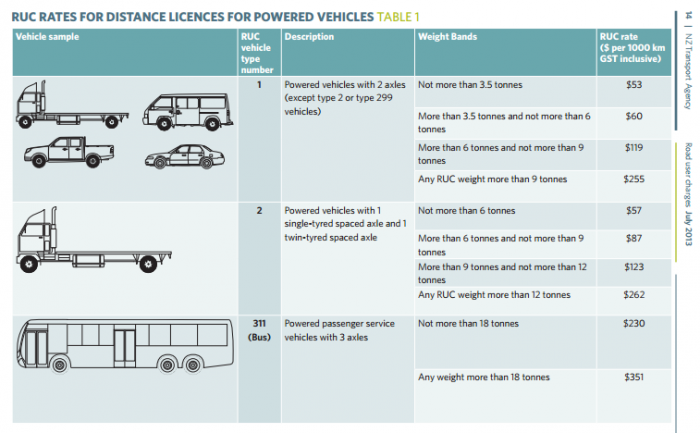 Car, vans and utes fit into the under 3500kg band.
Many of the motorhomes are made to fit into the type 2 tier and under 6 tonnes, meaning that you pay the lowest per km charge of $57 (1000km).
[Remember that these vehicles are able to be driven on a regular car license.]
A bus however will cost between $230 and $351 per 1000 km.  That's a huge difference in a trip that could be 5000+ km.
[The under 18000kg requires a class 2 drivers license 2 and the over 18 tonne a class 4]
The other important note is that if your vehicle weighs over 3500kg you must record your distance travelled per trip from an approved hubometer or electronic distance recorder.
You can download the entire RUC booklet from the New Zealand Transport Agency here.
Note: the rates in the above image have since been updated, with the inclusion of a specific sub-section 413 / 414 for 3 and 4-axle motorhomes.  
SEE OUR RUC CALCULATOR
| | |
| --- | --- |
| | |