Running costs
11 November 2014
An important part of purchasing a mobile home after the major initial cost is knowing what the ongoing expenses are ie how much it costs to keep your vehicle on the road.  We don't often remember to factor this into our buying decision but it can make a difference on a tight budget.
Each year you will have the following REGULAR COSTS:
Insurance
Registration
Self containment certificate (where applicable every 48 months)
Warrant / Certificate of Fitness - usually 6-monthly for an older vehicle and 12-monthly for a new one.
Warrant of Electrical Fitness - valid for 48 months
The FLEXIBLE REGULAR COSTS are relative to how much you will use the vehicle:
Fuel costs
Road user charges (if not petrol)
The VARIABLE COSTS consist of routine preventative maintenance and one-off repairs.
Each of the following need checking, and if necessary servicing:
Air conditioning gas
Anything that moves like a sliding door which may need greasing
Battery terminals and fluid level
Brake pads & fluid levels
Chassis nuts and bolts
Electronics (if applicable)
Fuel, air conditioning and air filters
Light bulbs, headlight glass, and fuses 
Locks, latches and hinges
Oil & filters
Radiator coolant level & condition
Rubber boots
Rust
Spark plugs
Timing belt
Transmission & power steering (if applicable) levels
Tyres - rotation & wheel alignment, balance, pressure & tread
Window & skylight seals; skylight condition
Windscreen water resevoir and wiper blades 
Some QUESTIONS to have in the back of your mind when assessing a vehicle are:
Is the vehicle a common make?
Are parts still available? 
Can I find a manual for this vehicle?
What am I able to do myself?
Is it controlled by an on-board computer that only a mechanic can diagnose?
Is there a service / repair person in our local area?
ECONOMY
To calculate the cost per kilometre of a diesel vehicle: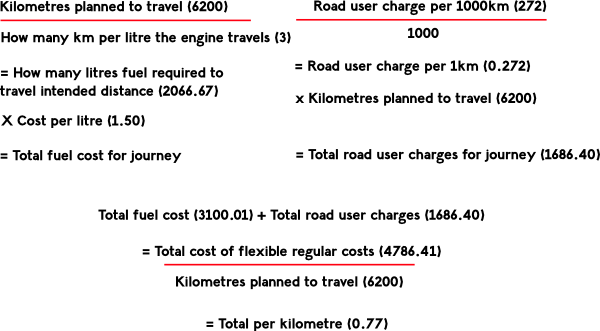 Yes, this is the long way to do it, but I wanted to see what the total $ amount to budget was too, otherwise you can do it like this:

To compare a diesel vehicle to a petrol vehicle per litre of fuel: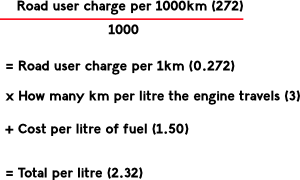 Note: Neither calculation includes the admin fee for purchasing RUCs.
To find the RUC charge per kilometre for your type of vehicle (and the various admin fees) visit the NZTA website
UPDATE
TRY OUR RUC & FUEL ECONOMY CALCULATOR
For mileage rates you can try asking the vendor / manufacturer, generally searching online or you may find something (in the future) at Fuelly especially if you choose to contribute.
* 6200km - this is an estimate for how many kilometres a decent round trip of New Zealand might be.
| | |
| --- | --- |
| | |