Useful travel items - #1 Multi-functional headgear
15 September 2015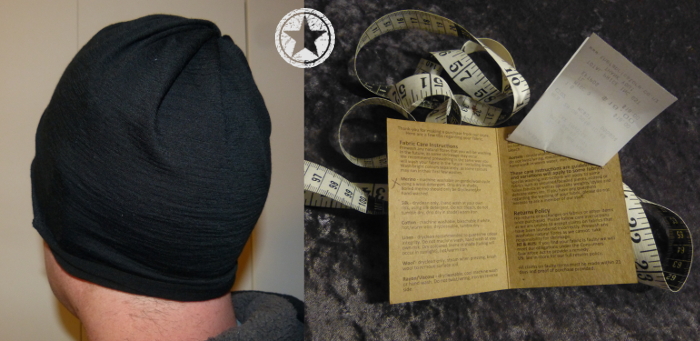 One of the items I saw on a Youtube video about packing for the Icelandic weather was called a Buff®.  Not being part of the outdoors community I had never heard of it before so had to do a bit of research on this famed multi-functional tube of stretch material.
Apparently it originated in Spain decades ago, and has been so well-marketed that the name Buff® is used as a generic term.
You can wear it as a neck scarf, a hat, a balaclava, head band and the list goes on.  This short video shows you more of the ways it is worn:
Convinced that this would be a useful additional to our packing list but not about to pay $40-$50 each I wondered whether it was something I could make. This tutorial showed me the basic dimensions and the rest is history.
The real product is seamless so that is the big difference - the ones you sew will have a seam.
I made ours out of 150gsm black merino tshirt-like material (purchased on special at $12 per metre from The Fabric Store in Auckland) so it is tightly woven and fairly thin.  What I didn't know from the online product listing was that this fabric shrinks. The sales person did tell Atlas about the shrinkage went he went in to buy it but he didn't know to then get extra length to compensate.  It went from 142cm across the width to 133cm.  I was impressed though with the care card (above right) that came with the fabric - no one does that these days let alone understand the features of what they are selling.
I had planned on getting 3 out of each width but ended up only getting 2 widthwise and seaming together a couple of off-cuts to make a 7th.  Oh well - mine has 2 seams.  To accommodate for Atlas' larger head circumference (60.5cm) and Kita's smaller one (51cm), I adjusted their widths (not including seams) to 55cm and 46cm respectively.  The rest of us have a circumference of 56/57cm which works fine with the 50cm base dimensions.  I cut all heights at 48cm. 
I over-locked the upper and lower edges and left them as is, before sewing the lone seam.  I had wondered about turning the edges over and zigzagging them down but don't feel it needs it.  Time will tell how this wears but there certainly isn't any issue with the over-locked edges not stretching enough which I was also mindful of.
The fabric feels beautiful and they are thin enough to be worn as an additional layer as well as being substantial alone.  
However if I were to make these again I would add an extra 50% to the length (so approx. 70cm) as the material is thin enough and has a lovely drape that there wouldn't be an issue with it feeling too bulky. In fact I am tempted to get some more regardless and trial the two lengths to find out what works best for each of us and the way we come to most commonly use them!
There are also Buffs® with Polartec® fleece, reversible, UV protection and with visors to give you some further diy ideas:
TIP:
If you are making all the same colour 'Buffs®' for your family (and/or need to make different sizes) and want to assign them to specific people, run a few strands of each person's chosen coloured embroidery thread or wool through the inside over-locked seam.
We have used colours to differentiate our packing cubes (recommended by another travelling family as a must-have); and hope to continue it with the travel towels we plan to get too (recommended by a motorhomer).
| | |
| --- | --- |
| | |