Useful travel items - #4 Travel tubes
03 November 2015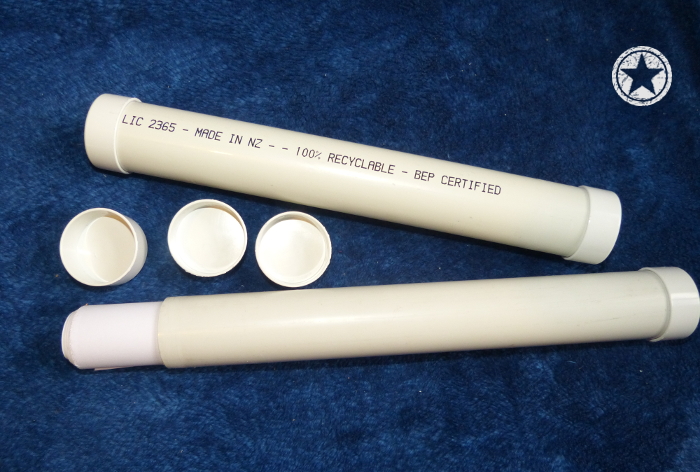 One of the things that you are advised to take with you is a copy of your important documents: Passports, driver's licenses, marriage certificate, birth certificates etc and to keep them in a safe place.
Being that there are 7 of us, the number of A4 pages increases rapidly, and I wanted a way to keep them crumple-free and fold-proof for the journey.
That's when I hit upon the idea of rolling them and stashing them in a rigid plastic tube instead of the standard cardboard paper towel tube, so it could be thrown in the bottom of our packs without fear of damage.
I didn't know how I was going to materialise the idea so headed to a plumbing supply store, feeling a little diminutive for asking for help with such a concept, but was heartily surprised to be served by a lovely woman who was so supportive and took service to the nth degree.  
She counted out 25 sheets of paper from the printer and we took this with us to the pipe section to see what would work.  I conceded that the 18-23mm that I thought I could use wouldn't have been big enough and settled for 43mm (called a 40mm as this is it's internal diameter); and that is with rolling the long edge of the paper around itself instead of the short one too.  Remember that once inside the tube, the paper expands to fit snuggly.
One of the great things about going to a plumbing supply instead of a hardware store is that I didn't have to buy 5 - 6 metres of the pipe.  1m was enough to get out the 2 tubes that I wanted and I ended up getting a bonus tube too which I can see being used for colouring pages in Kita's carry-on bag.  The ends themselves were the expensive part.
Each tube weighs less than 250g (including documents) which is the average weight of a t-shirt or two.  In some ways it is a bit heavy when you have to consider that you carry every single gram but in the long run for the length of time we would like to be away and the importance of having the documentation handy if we need it it's a sacrifice that makes sense.
For those of you keen to make one for yourself you will need:
length of pvc piping (the long edge of an A4 piece of paper is 29.7cm so I allowed for 1 extra cm and cut ours at 31cm)
2 end caps
Some sort of hack-saw blade if you are buying a longer length of pipe and cutting it down (I used a Leatherman!)
Some sand-paper for coarsely sanding off the cut ends (I used 150 grit)
We decided not to glue one end cap on one end and rather leave both 'loose' (which when you put them on they are not!) so that if there was an issue of getting anything out of the tube we could push from one end and pull from the other.  Technically they are not water-tight and I could add some teflon tape perhaps to one end or the other but I am happy with the way they are.  The ends need a bit of torque/twist to get them off but that's good for something that may get caught on other objects in one's pack and you don't want the ends popping off randomly anyway.
It was a great feeling to be able to go from concept to creation in one day, and have another item barely hit our still-very-long to-do list before it was crossed off.
| | |
| --- | --- |
| | |