What is self-containment?
20 March 2014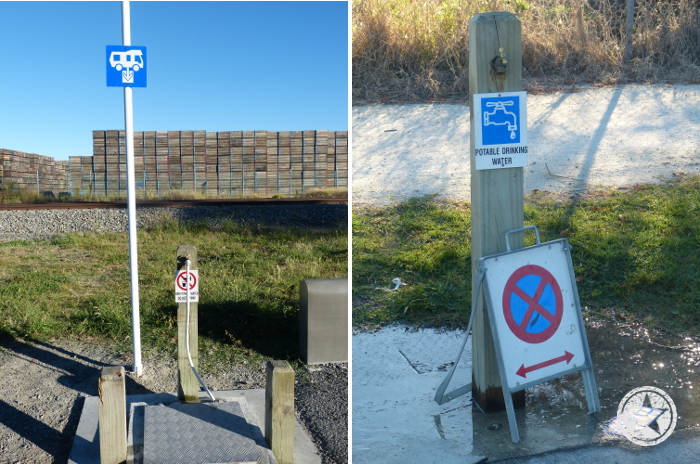 Fresh water, grey water and black water - what on earth do they mean and why does it matter?
Water to many of us in New Zealand is so taken for granted that it's only when we have to cart it with us or find it for ourselves that we realise how much we use and how fortunate we are to have it on tap in our homes.
Would you know how many litres your household uses in a day?  Or how much water the toilet uses for flushing or the washing machine for a full load of clothes?
Take the shower as an example...
At home the average shower head has a flow rate of 9-14 litres per minute.  
Here are 3 scenarios to calculate how much water is used.
14l/min x 5 minute shower x 7 people = 490l
14l/min x 2 minute shower x 7 people = 196l
9 l/min x 3 minute shower  x 7 people = 189l
In a mobile home self-containment is an optional standard (NZS 5465:2001 & amendments) and certification which stipulates that you must have a minimum supply of fresh water on board to last a person for 3 days, the appropriate tanks to take care of it afterward (grey water is used water), a sink, a toilet, an evacuation hose, and a sealable refuse container (with lid - this is for the black water = used toilet water).  While it isn't mandatory to comply, more and more local governments are requiring self-containment certificates for freedom camping within their geographic boundaries as an easy tool to surmise that those overnighting in a public place have adequate facilities. 
Certificates / stickers are issued declaring the number of people the mobile home is deemed fit to accommodate for those 3 days, the license plate, date of issue, issuing authority and expiry date.  Certification lasts for up to 4 years, and there are rules about where the sticker(s) may be placed on the vehicle but your issuer will see to it they go where they ought. [See below for a list of issuing authorities.]
Can you guess how many litres of water is necessary to fulfull the self-containment requirements per person per day?
9 litres.
Yes, you read that correctly, just nine litres.  
So a self-containment certificate for 7 people would mean 7 people x 9 litres x 3 days = 189l
That's the equivalent of our shower scenario #3 above.
The reality is that you will want and need more water than this, especially when you consider:
showering (humans and pets)
drinking water
hand (& face) washing
washing clothes
washing dishes
flushing the toilet
making dinner
brushing teeth
washing off outside (if you are near the beach or been up country)
washing down tables and benches
general water play if you have smaller children
and if you want to be freedom camping more often than not.
So if you have the option of 'trading up' and getting bigger tanks, DO IT!  
Bear in mind that full they will add extra weight to the mobile home and that will count toward your Gross Laden Weight for your Road User Charges and Driver's License class if you go over the Land Transport Safety Authority guidelines.
Two fantabulous Kiwi inventions for filling and conserving water in our mobile homes, that are on our wish list are: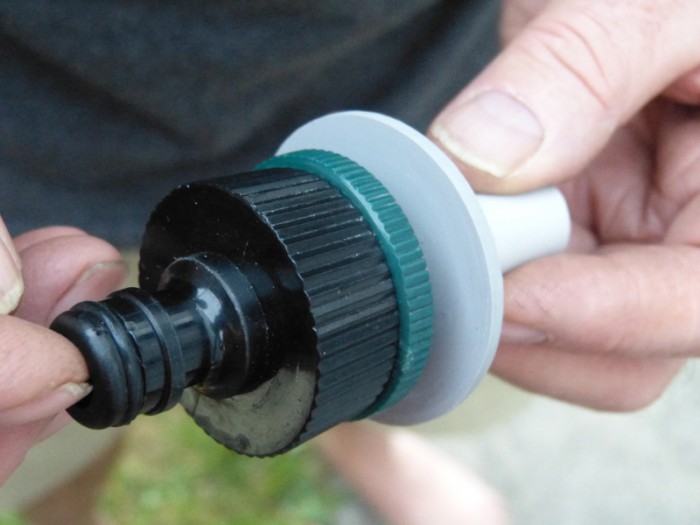 The Aqua Ezi Fill - a fitting that attaches the hose to the outside of your mobile home water inlet so that whatever grebblies/ dirt/ rust etc that the outside of the hose has come in contact with does not contaminate your fresh water supply too. Jim has been having some website troubles lately but can be contacted at aquaezifill@gmail.com.
Another is the King Water Saver which diverts not-yet-hot-enough-water back to the storage tank so it is not wasted down the drain. (See Chris's website for demonstration of how much water is saved).
Let's support our home grown talent, folks.
Last but not least, this post wouldn't be complete without a demonstration of how to use a dump station.
This is from Wilderness Motorhomes and shows emptying a cassette toilet and grey water tank; and then filling the fresh water tank.
The following are current self-containment issuing authorities (in addition to plumbers or qualified persons registered under the Plumber, Gasfitter and Drainlayers Act 1976):
[We emailed all parties on an old MfE list to confirm each were still in operation and only received a few replies.  Some had discontinued their service. If you provide a self-containment service feel free to contact us and we will add your name to the list.]
Please note that Ministry for the Environment DOES NOT APPROVE issuing authorities.  The self-containment certification is not mandatory, so there is no government oversight or enforcement of the process. If you are not employing the services of a registered plumber then that company/organisation or person must be able to show evidence that they have a scheme to qualify their 'testing officer(s)' to competently certify to the voluntary standard.
MfE advise "If you find someone who can show neither their certified plumber documentation nor qualification scheme evidence, then I suggest it would be unwise to hire them to do self-containment certification."  Which is all well and good except that would mean that as a consumer you need to know exactly what the standard is in order to ascertain that the standard has been met.  You only have a person's word (or future reputation) that they know what they are doing, and I do wonder what that is worth these days in light of what we see on investigative television programmes like Fair Go.
The NZ Motor Caravan Association has a summary booklet for those DIYers or people interested in a few more details, without purchasing the NZ Standard.
| | |
| --- | --- |
| | |