Where did we go and what was it really like?
13 November 2017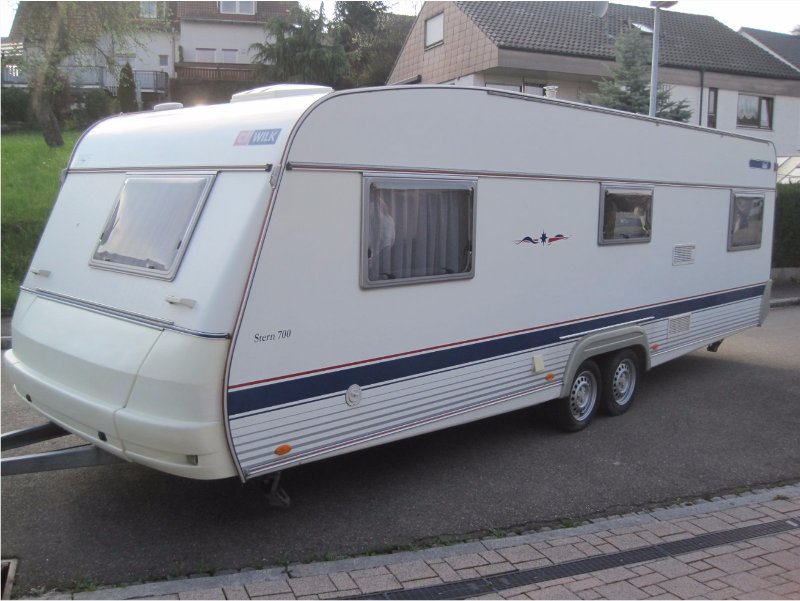 When we finally hit the road with our beloved Mercedes Vito and Wilk Stern 700 caravan, these are the places we visited:
Switzerland, France, Spain, Belgium, Netherlands, Denmark, Sweden, and Germany; with day trips to Austria and Luxembourg.
[For those just joining in now, we were constrained by the Bi-lateral Visa Waiver Agreements, on where we could go and when.]
Sometimes we would move every day, and at others we'd stay a week, most times it was 2-3 days in one place.  This 'freedom' wasn't easy nor carefree.  In fact it was darn right difficult even with the up-to-date ADAC (equivalent to NZ's AA) annual camping guide that listed private and municipal options alongside the camping grounds.
The idea was to stay at park-over properties instead of camping sites, to save money.  For the size of our family, camping grounds would have cost similar to a motel each night.  You generally would pay for the two vehicles and for each person, as well as electricity and utility charges. Park-overs were usually a minimal charge per unit (not per head) but which may not even provide water and power (both extra costs) - just a car parking space.  On average our daily charge for somewhere to overnight was EU10 in Germany, EU5 in France, free in Spain and Sweden, EU30-35 in Netherlands and Denmark.
We had three major challenges to finding somewhere to rest our weary heads at the end of a long day.
The first was that we were travelling with a caravan.  This is not the done thing unless you are a gypsy, and as a result we were tarred with the same unfavourable brush.  The issue of us being self-contained didn't seem to factor into it at all.  Caravans there are towed to an official park, set up and left year-round.  They are not towed around the countryside!  We repeatedly encountered prejudice at it's finest.
Secondly we had a very long rig at over 13m when attached, approx 4 + 9 separated.  Many of the park-over properties were only for vehicles up to 6m.  Manouveuring into spaces that were long enough for the caravan, even if we had to park the Vito elsewhere, was invariably a nightmare.  The number of times we had to unhitch, re-position the van; or even use sheer brute man-power to guide the caravan to where it needed to go was too numerous to count on hands and feet.
I could tell you the story of driving it through one of many small quaint French villages and getting so stuck not being able to make a right turn even with the caravan unhitched, that the local police had come to see what the activity was about and ended up not only helping us rock it back and forward (along with a patron from some neighbouring restaurant) around the corner distorting the tyres so much I thought they would blow; but then afterward provided an escort to the parking lot on the Seine river where we were intending to head.
I got very used to doning my hi-visibilty vest, which is mandatory for every passenger in every vehicle, and scoping out what was in front and behind us, yelling all the while to Atlas who would try to interpret it, to get us out of trouble.
Then there was the abiding issue of lack of wi-fi, to check these places were what they said they were and to ask if they'd allow us to be there.  Or to try and find another one at the end of a long day because we couldn't stay where we had planned.
If we were to do it all over again, the one things I would do differently would be to position ourselves for a month in one place, and make day trips from there.  
Finding a place to overnight, a petrol station for fuel, the supermarket for food, public wi-fi if at all and generally orienting oneself with the environment day in and day out is FAR TOO MUCH STRESS.  Finding a place to stay longer that was not a camping ground would still be a challenge, but I reckon possible.
Do I miss living in a caravan and travelling Europe?  Yes absolutely!  It did give us a sort of freedom and flexibility albeit at the very high price of stress.  It was the means to our end, the vehicle for us to even consider being able to make the journey.  Without the van and caravan we could not have gone where we did, seen what we have nor experienced the culture and life of so many countries and people.
It was great that you weren't living out of a suitcase and packing and unpacking every day.  In the caravan everything had it's place and everyone did too.  The children had pictures on the walls, toys and games in the cupboards.  It was fun to outfit the kitchen, in particular, with the essentials of what we needed and realising that it really wasn't that much.  The fundamental needs of running a household on wheels were stripped down to 'do we have enough water?', "where can we dump the toilet?" and "is everyone fed and warm enough?".
This lifestyle was nothing new to me, as growing up my parents were able to provide me with holidays in a caravan; but for the other six it was a new frontier.  The simplicity appealed to my minimalist nature; but not so much to the children.  The boys missed their Lego & toys, Gemma missed her space; and Vega missed her sewing.  Some days when the homesickness was in full swing what the child missed became so huge they were not able to see what else they did have that they didn't at home.  I guess a case of the grass is always greener.
For me, being home now 7 months I do appreciate our house is big enough, whereas prior I had wished we could have afforded an extension so children didn't have to triple up in a room.  I have continued to hold minimalism and the process of constantly re-evaluating an object's usefulness (as you need to do in a caravan and also while long-term travelling) in focus.  We have in our home what we need, and the rest sits still in the shipping container for sorting, selling or storage.
One other mindset change was that whilst overseas if we did really need something we had to buy it.  At home we had always tried not to buy something new if we could make do but this wasn't possible overseas.  Having the right item for the specific task did make things quicker and easier. 
What this means for me, is for example when I wanted to paint a couple of stripes around the boys' room I calculated what I would need, and went and bought tester posts from the hardware store in the exact 2 colours instead of trying to mix them from the mis-tints and leftover paints we might have had in the shed.  Ok, so it may not sound like a big deal to you, but to me it is.  It wasn't an expensive splurge either, but I was giving myself permission to make my life easier and that feels good. 
In contrast I have just hauled a (free) wooden pallet home from the other side of town balanced precariously on a bicycle so I could make two headboards of it for the same boys' bedroom.  The difference was that I wanted to have a go at up-cycling something from a pallet and this was finally a practical project.
I dare say that each one of us will continue to have these little mind shifts and revelations especially as we individually and communally process our 17 months abroad.  For that I am grateful for the O.E. that was.
| | |
| --- | --- |
| | |