WoF vs CoF
25 November 2014
Don't know the difference between a WoF (Warrant of Fitness) or a CoF (Certificate of Fitness)?  Which one does your vehicle need?
Here's our little flow diagram to get you started: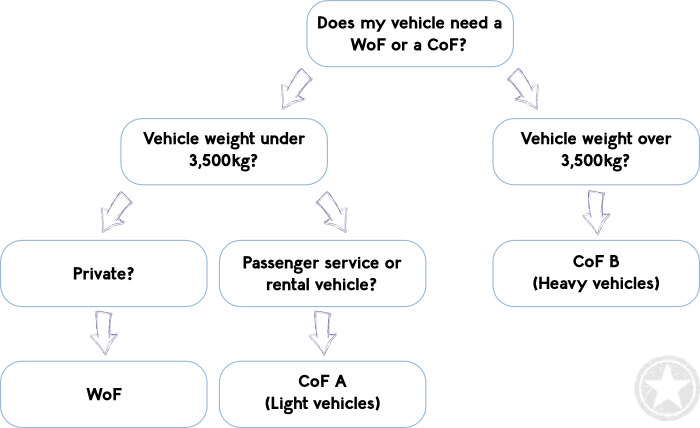 Passenger service and rental vehicles include taxis, shuttles, buses, rental cars, campervans, and motorcycles.
[If your vehicle is modified you may also need other documentation/inspections before your CoF or WoF is issued.  CoF vehicles also need a certificate of loading, road user charges licence for vehicles over 3.5 tonnes (3500kg) or if powered by diesel or another fuel not taxed when sold, and an approved hubodometer for vehicles over 3.5 tonnes (3500kg).]
Here is what a check covers:
WoF

tyre condition
brake operation
structural condition
lights
glazing
windscreen washers and wipers
doors
safety belts
airbags (if fitted)
speedometer
steering and suspension
exhaust
fuel system

CoF

tyre condition
brake condition and operation
structural condition
towing connection condition and certification
load restraints such as load anchorages, log bolsters, or curtain systems for condition and applicable certification
certificate of loading
transport service licence number (if required)
lights 
glazing 
windscreen washers and wipers
doors 
safety belts 
airbags (if fitted)
speedometer
steering and suspension
exhaust 
fuel system
An authorised agent of New Zealand Transport Agency (NZTA) can issue a WoF or CoF. While I hoped that I could give a specific link to a Yellow Pages search there is no comprehensive term that results in all of the supposed 3200 agents that NZTA say there are so the link is for some that do WoFs.  Most mechanics will issue WoFs and set their cost currently around $50.
Not all agencies can do a CoF. CoFs are able to be issued by the the Automobile Association (AA), Vehicle Inspection New Zealand (VINZ), and Vehicle Testing New Zealand (VTNZ).  CoFs are required every 6 months and cost around $150.
WoF durations however have just been reviewed as at July 2014: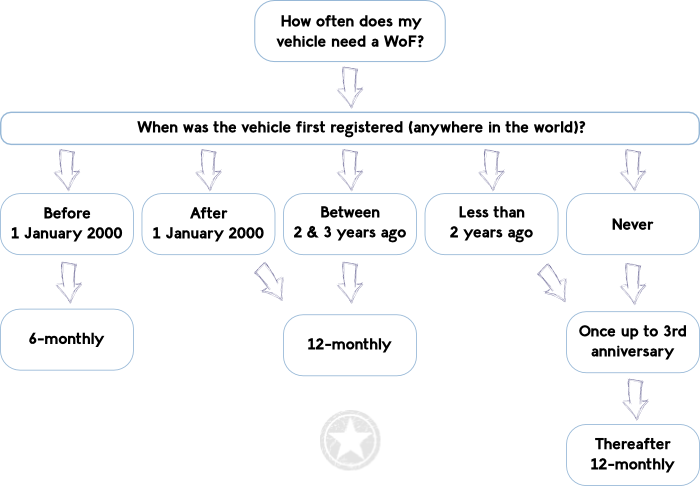 NZTA advise that a WoF or CoF are not the same as a pre-purchase check as there are some additional items you might want to check if you were buying a vehicle.  [So far I have only found businesses that will do a check on a light vehicle not a heavy one. If you find otherwise please let us know and we will update our information.]
YOU ARE REQUIRED TO KEEP YOUR VEHICLE UP TO WARRANTABLE OR CERTIFIABLE STANDARDS
AT ALL TIMES NOT JUST FOR CHECKS.
| | |
| --- | --- |
| | |