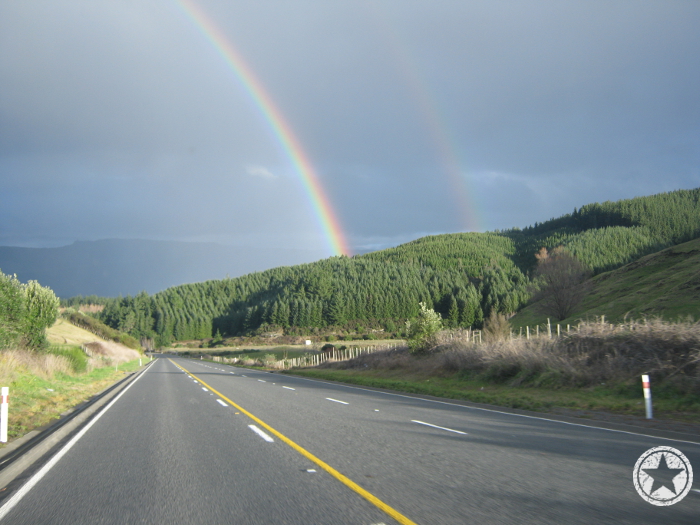 Hitchhiking is legal and still popular in New Zealand despite a few tragedies over the years.
The NZ Police do not officially endorse it; but there are some guidelines for the keen:
Hitchhike in pairs especially if you're female
Let someone know where you are going
Stand in a well-lit place if you are waiting for a ride
Stay off the road itself
The NZ Police have a downloadable 2-page guide to keeping safe for visitors to New Zealand (not just about hitchhiking so worth a quick read), that includes some traveling times and distances, police stations and i-sites too.
As for letting someone know where you are going, if you don't have a person in New Zealand that you keep in contact with on a day-to-day basis, there is a 24/7 service that is available to all users of the 3 major cellular telephone providers (Vodafone, Telecom and 2degrees) called SAFE text.
Simply text your intentions or what you are doing to 7233 (SAFE); it is archived for 3 months (Vodafone) - 12 months (Telecom and 2degrees) along with the time and date and can be retrieved by the Police if necessary.  The text is free but they are NOT monitored nor can they store images or videos.  If it is an emergency you should still phone 111.
[Vodafone and 2degrees even offer this same service to their customers using their network SIMs overseas - roaming charges apply.]
For those up for a read before you arrive, check out New Zealand resident, Joe Bennett, former Briton, wrote about his adventure hitch-hiking around New Zealand in "A land of two halves"
Or this uncensored young male perspective by another Briton traveling from Wellington to Gisborne and return, for the Rhythm and Vines music festival.
Note that if you are the outdoorsy or adventure type there is an extra safety net for you in the form of an Outdoors Intentions sheet.
You can download the sheet, fill it in and send it to a trusted contact; or email to the same.
Or fill it in online directly with a monitoring service, who will confirm your details before and after your activity.
If perhaps you are looking for a cheap alternative to hitchhiking, there are often buses and airfares going at a good price if you are quick and can plan to be flexible (yes I know it sounds like an oxymoron!).