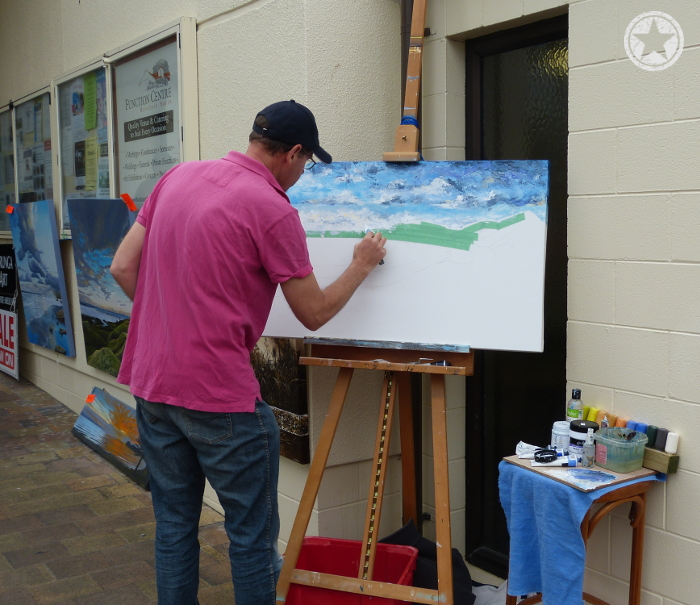 There was no doubt that a lot of planning and money went into making the Havelock North Carnival BIG last Saturday.
It was big on stalls, big on music, big on bouncy castles, photographers and fire engines.
There is nothing wrong with that unless you are a young child, mind auditory overload or value your privacy.
Vega and I snuck into an op shop or two and that was a welcome break from the noise and crowds.  She even bought a flowing white dress which was rather a deviation from her regular style.  I am sure she will change it somehow though!
The boys liked clambering in and through the fire trucks as always, and Kita took a shine to a random scissor lift left at the roundabout (probably for the $1000 cash drop which we definitely weren't staying for).  They didn't get to jump on either bouncy castle though as waiting times, locations and logistics didn't make it easily possible.
The day was fine but windy which saw several stall-holders and buskers literally having to hold onto their wares.
Most visibly the silk artists who were hanging onto billowing fabric suspended metres above the ground, from a tripod strung together by wire running from each leg across the grass.
While this may be a fun, family day out for some, I feel it would better suit older independent teens and adults who could venture forth wherever they pleased at their leisure.  With children in tow you simply don't have the opportunity to really look at what was on sale; and the poor wee tikes get so bored being dragged from one stand to the next.  
What I found the most fascinating were all the various art and craft groups at the Function Centre who were showing us how it was done, not just trying to sell us something.  Potters, quilters, felters, painters, weavers etc.  I could have happily sat and watched the painter (above) complete the piece he had started.